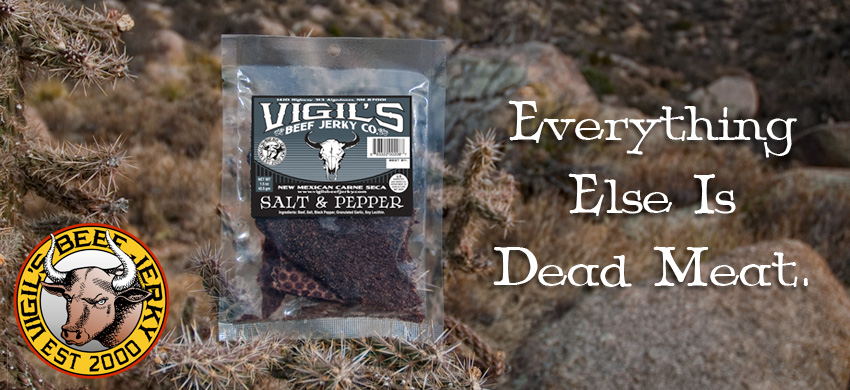 ​We are an artisan beef jerky producer located in Albuquerque New Mexico. We were founded in 2000 by Charlie Vigil who's goal was to produce the very best beef jerky possible with the finest natural ingredients.
Carne Seca (Dehydrated Beef)
Our beef jerky is very unique – it is thin and crispy with just the right amount of seasoning to arouse your taste buds. It is also a great source of healthy protein. Vigil's Beef Jerky is made with select quality beef and fresh green and red chiles (native to New Mexico). All ingredients are natural and hand mixed to perfection, giving it the old fashioned homemade taste of Carne Seca.
​Our Story
Founded in 2000 by Charlie Vigil, Vigil's goal was to produce the very best beef jerky possible. We still honor that goal to this by using only the finest natural ingredients including New Mexico Green and Red Chile. It is because of this commitment to quality that Vigil's Beef Jerky has grown over the years and is proud to be offered at a growing number of retailers in multiple states.
Vigil's All Natural Beef Jerky is not your usual jerky brand, Vigil's offers fresh natural artisan jerky. What does artisan jerky mean? Each batch of Vigil's Jerky is hand prepared by our employees who take care to ensure each piece has just the right amount of seasonings and spices. Because Carne Seca Jerky is dry, it requires less additives than many of our counterparts because dry jerky stays fresh much longer. It is this attention to detail and lack of additives that add to the great taste of our products.
We look forward to continuing our mission to provide you with only the best beef jerky possible and nothing less. We will continue to expand our offerings and increase your buying convenience through this website.
​Our Beef Jerky can be found at a variety of retailers throughout the southwest, including: